Iron Railings Repair
Iron railings can last a lifetime, but sometimes ware, damage or other circumstances can deteriorate or damage them. OLG Railings provides a comprehensive iron railings repair Toronto service that will have your railings restored to their former glory in no time at all. Our experts can restore and repair your iron railings bringing them back to their former glory within days.
Office :
1 (888) 271-0504
Email :
info@olgrailing.com
Structural & Aesthetic
Our Vaughan company offers an iron railings repair service that can both return restore your railings' structural integrity and restore them to their former shape. Our company manufactures custom railings, as such, we are able to custom manufacture missing components and finish them in a way where the transition is seamless. Call us today, and let us restore your railings.
All Textures & Finishes
Our expert craftsmen utilize cutting edge iron railings finishing techniques in our manufacturing and repair processes, which enables us to perfectly match repaired iron railings components to your original railings. Furthermore, we can reinforce your railings, repaint and restore all surrounding damage, once again making your home safe and beautiful. Call us today, and let us repair your iron railings anywhere in Toronto and GTA.
Getting Started
If you have broken iron railings that are making your home unsafe or just excessive ware that is making them unappealing, contact us. Our iron railings repair experts in Toronto and Vaughan can be on-site within a few hours to give you a better understanding of the available options. Furthermore, our estimates are completely free, so even if you do not choose to proceed with us, it never hurts to get an expert opinion.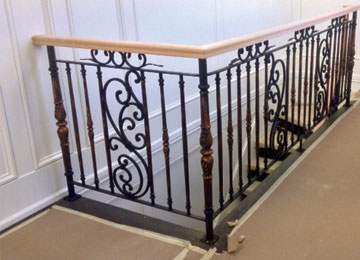 Request a Free Estimate
Contact us for a free estimate. Our highly qualified craftsmen can be on-site today
to introduce you to the variety of options that could drastically improve your home!