We Install Iron Railings in Toronto
If you wish to install wrought iron railings in Toronto, no other local business can assist you with the professionalism, confidence and experience that OLG Railing Company can offer. Installation is not our only service, either. We also offer quality Toronto iron railings repair. If you are on a quest to find reliable wrought iron railings repair in Toronto, our seasoned pros are available to provide it for you. Our Toronto iron railings repair is truly superb.
Office :
1 (888) 271-0504
Email :
info@olgrailing.com
Vaughan Iron Railings Repair and More
If you are based in nearby Vaughan and want to install iron railings for your property, we can aid you, too. We have many clients from Vaughan. If you are looking to install wrought iron railings in Vaughan, we are certainly the perfect company choice for you. Our iron railing repair service in Vaughan is also dependable and efficient. If you are thinking about receiving wrought iron railings repair in Vaughan, we can offer you the diligent and thorough service you deserve.
Skilled Installation Professionals
If you are looking for affordable and high-quality iron railing installation in Toronto or Vaughan, call us at OLG Railing Company today for further information. We are honestly looking forward to hearing from you and servicing you.
Contact us today!
Call Us Now
Our company is equipped with a team of highly knowledgeable and experienced professionals who install iron railings for our clients. Our pros know iron railing installation inside and out. They go out of their way to accommodate client requests and wishes. Customer service is always something that is extremely important to all of our team members. They also offer galvanization service to protect iron railings from getting rust.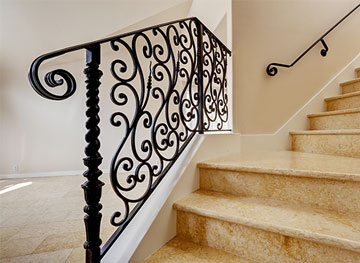 Request a Free Estimate
Contact us for a free estimate. Our highly qualified craftsmen can be on-site today
to introduce you to the variety of options that could drastically improve your home!