Outstanding Custom Iron Railings in Toronto
When you need custom wrought iron railings in Toronto that are exactly how you envisioned them, OLG Railing Company will never disappoint you. We have a tradition of superior craftsmanship and fine customer service here at our company. We also enthusiastically cater to people who live in Vaughan. If you need custom iron railings in Vaughan, we are at your service. Our custom wrought iron railings in Vaughan are beautifully constructed, visually enticing and truly dependable.
Office :
1 (888) 271-0504
Email :
info@olgrailing.com
Vast Selection of Custom Products
If you want your iron railings to be a certain way, we will not let you down. We provide our customers with many fantastic choices in designs for their custom iron railings in Vaughan and Toronto. If you want your custom wrought iron railings in Vaughan or Toronto to be just so, our industrious and highly experienced professionals will definitely wow you. Our pros have extensive experience in custom iron railing manufacturing, after all.
Other Custom Options Available
We understand that the point is to always please our customers, and that is why we do not only manufacture railings made out of iron. If you have a specific metal request for your custom railing project, let us know and we will happily go forward in that direction. We aim to please here at OLG Railing Company. We also give our customers the option of galvanization, which can protect their custom iron railings from the frustration of rust development.
Contact OLG Railing Company Today
If you are dreaming about beautiful custom iron railings in Toronto or Vaughan, our company has all of your needs covered. We are known for our thoughtful customer service, affordable prices and friendly, diligent staff members. What more could you possibly want out of a railing company? Call us today for more details. You can count on OLG Railings to provide the highest quality custom iron work at the most cost effective prices in Toronto.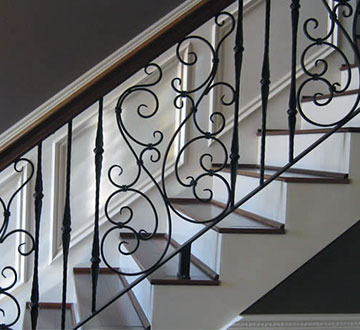 Request a Free Estimate
Contact us for a free estimate. Our highly qualified craftsmen can be on-site today
to introduce you to the variety of options that could drastically improve your home!